October 31, 2014 – Three of our member associations – Ontario Presents, Atlantic Presenters Association, and Orchestras Canada – will be presenting free webinars over the next months.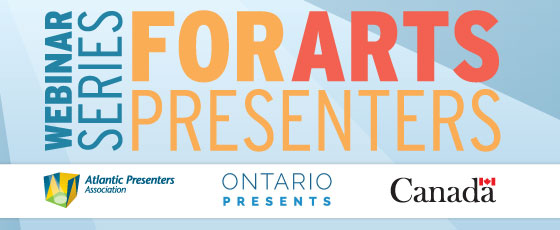 With the support from the Department of Canadian Heritage, Ontario Presents and the Atlantic Presenters Association are joining forces to present 2014-15 webinar series beginning November 2014. Topics will range from arts data and management, budgeting, sponsorship and more as they apply to the field of performing arts presentation. The first webinar, Making Better Decisions: The Do's and Don'ts of Research in the Arts, presented by Inga Petri, will take place Wednesday, November 12th.
Orchestras Canada continues the Learning Over Lunch – Webinar Series for Small Budget Organizations. This free webinar series offers solid, practical tips on subjects important to your organization: legal issues, fund development, marketing and more! The next two webinars will be:
November 20, 2014
Tips for Small Budget Arts Organizations – Facebook: A really useful marketing tool
December 4, 2014
Tips for Small Budget Arts Organizations – Anti-Spam Legislation (CASL)
For more webinar and professional development listings, visit the Presenter's Toolkit.
Previous and Related News
CAPACOA Makes the Case for Investments in the Arts
Call for nominations for the National Arts Centre Award for Distinguished Contribution to Touring