Septembers 30, 2014 - As a prelude to tomorrow's #HealthPromoChat and to next week's Community Health and Wellbeing Week, here's an excellent post initially published by Health Nexus in April.
For years now, health promotion practitioners have been basing their work on the Ottawa Charter for Health Promotion created in 1986.
According to the Charter, fundamental conditions and resources are needed to ensure health for all.
PREREQUISITES FOR HEALTH
The fundamental conditions and resources for health are peace, shelter, education, food, income, a stable eco-system, sustainable resources, social justice and equity. Improvement in health requires a secure foundation in these basic prerequisites.
The Canadian Index of Wellbeing tracks eight quality of life categories over the course of several years.
These categories are community vitality, democratic engagement, education, environment, healthy populations, leisure and culture, living standards and time use.
Today we will talk about leisure and culture.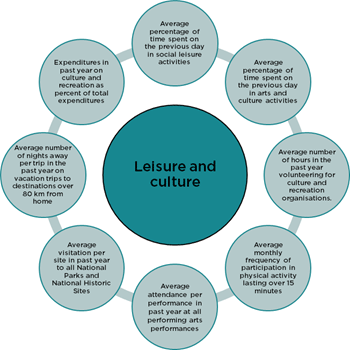 (image: Canadian Index of Wellbeing)
When was the last time you went to the theatre, or a concert, or an outdoor sports event?
If you can recall a few recent instances of similar outings, odds are that you are experiencing a higher level of well-being than those who haven't had the opportunity to attend such events and you are also more likely to volunteer.
According to the Invest to Save: Arts in Health Evaluation Report,
"arts service users reported a number of benefits from their experiences of arts engagement. They experienced greater confidence, self-esteem and interest in life, particularly feeling more engaged and involved in general. They felt greater personal concern for health and well-being, and felt more empowered to make choices in relation to health, as well as having greater capacity to cope with illness or infirmity."
The Canadian Arts Presenting Association (CAPACOA) commissioned a report entitled the Value of Presenting: A study of Performing Arts Presentation in Canada. In the report, the benefits of performing arts presentation are outlined as they relate to individuals, community, and society. Findings are similar to those included in this overview by the Arts Health Network Canada:
Participation in the arts correlates with greater longevity and positive perceptions of one's health;
Engaging in arts programs enables seniors to live independently longer, and reduces use of doctors, medications, and medical facilities while enhancing quality of life;
Arts empower youth, especially youth-at-risk, to succeed in school and develop skills and relationships that contribute to success in later life (Health Canada finds that health status improves with level of education)
Arts and Creative Arts Therapies provide avenues for healing for those who have suffered from trauma – war, other violence, neglect, accidents, natural disasters such as fires and hurricanes;
Arts facilities, centres and programs are used in the UK and in the US to regenerate economically and socially depressed neighbourhoods;
Arts activities provide vehicles to explore solutions to pressing social issues—addiction, drinking and driving, street racing, bullying, domestic violence, etc.
The Value of Presenting report also cites the Arts and Individual Well-Being in Canada by Hill Strategies, another go-to source to discover the full impact that arts and culture have on our health. Both reports support the findings of the Invest to Save report, i.e., arts improve our health and well-being.
I can't think of a more enjoyable way to contribute to my health and sense of well-being than attending a live performance, sports game or exhibit. Can you?
The unfortunate reality is that arts and culture events can often come at a price. But a savvy attendee can often take advantage of discounted rates. Many performing arts have student and senior rates, and often last-minute tickets at lowered prices for the patient attendee are available directly on their website or through a third source provider such a Groupon, etc.. .
Also, many community cultural events are free and excellent opportunities to revel in live performances and view various artistic endeavours. Some larger events allow attendance in exchange for support in way of volunteering.
With spring finally-almost-upon us, we challenge you all to make a point of attending one cultural event in your community this season. Do it for your health!
We leave you with this infographic by the Arts Health Network that best summarizes the benefits the arts have on our health.
Recent and Related Articles